Prime ministers of the Shanghai Cooperation Organization (SCO) members on Monday pledged to further promote economic cooperation.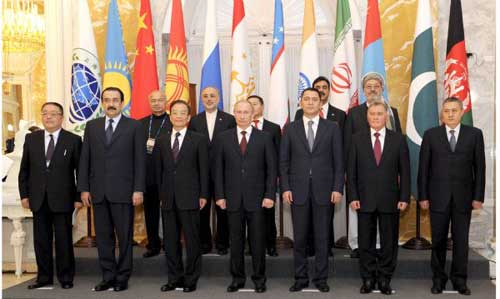 Amid increasing uncertainties in global markets, the SCO member states should further strengthen economic cooperation in a bid to minimize negative effects of the global crisis on their countries' banking and financial sectors, the leaders said in a joint declaration.
The SCO prime ministers also stressed the importance of cooperation with SCO observers and dialogue partners and with international organizations such as the Association of Southeast Asian Nations, the United Nations Economic and Social Commission for Asia and the Pacific, and the Commonwealth of Independent States.
The SCO would continue encouraging investment and advancing mutually beneficial projects among member states in line with laws of these states. Thus, it is of great significance to establish a financing mechanism for joint projects, including special accounts and development banks for the SCO, it said.
The prime ministers also agreed to tap the economic potential and consolidate financial and monetary systems among member states to increase state-owned finance institutions' capital adequacy ratio and liquidity.
VietNamNet/Xinhuanet