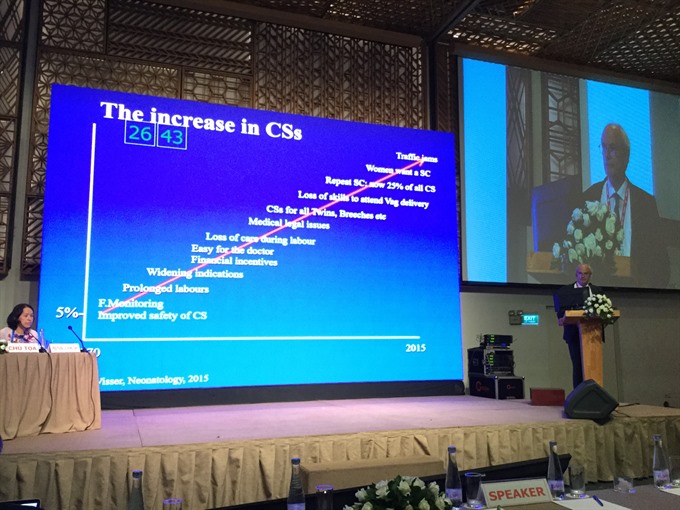 Viet Nam News
HCM CITY – The Vietnamese Government should intervene to reduce the rate of caesarean section deliveries, which has seen an upward trend globally, including in this country, an International Federation of Gynecology and Obstetrics (FIGO) official has said.
Professor Gerard H.A.Visser, chairman of FIGO's Committee for Safe Motherhood and Newborn Health, said world-wide there has been an explosion in caesarean deliveries, ranging from 50 per cent in south-eastern Europe to 60 per cent in some Latin American countries.
In Việt Nam, the rate was 33 per cent in 2008, he told an annual Việt Nam-France-Asia-Pacific Conference that ended yesterday.
According to the Ministry of Health, the rate was only 12.4 per cent in 2003.
Visser said the incidence of C-section has nothing to do with evidence-based medicine.
"It has more to do with the doctor's salary, the lazy doctor who does not want to work at night, the doctor who has lost his/her skills to attend a vaginal delivery."
The increase in C-sections raises direct maternal morbidity, complications in subsequent pregnancies, neonatal morbidity due to early delivery, and auto-immune and metabolic disease in the offspring, he said.
He cited a 2015 World Health Organisation statement on C-section rates which said that C-section rates higher than 10 per cent were not associated with reductions in maternal or newborn mortality rates.
"C-sections cause effects on immune response in children because they do not have stress response before birth, leading to failed immune activation."
It is also associated with an increase in childhood onset of type-1 diabetes, obesity, later risks of allergy, and celiac disease, he said.
It is time to consider the risks of C-sections for long-term child health, he said.
"Obstetricians seem incapable of reducing C-section rates," he said, suggesting that they need help from government agencies.
Fees for caesarean deliveries should be reduced for both the doctor and hospital, he said. Besides, caesarean fees should be used to increase vaginal delivery fees for doctors, better preparation for labour and delivery, skills training for doctors and upgrading labour wards at hospitals, he said.
"Women are designed to deliver vaginally and they only need a caesarean delivery if it is really indicated."
Nguyễn Đức Vinh, head of the Ministry of Health's maternal and child health department, said Visser's recommendations are important for policy makers like him.
"I agree with him that Việt Nam should have policies and methods to reverse the upward trend in C-sections."
Nutrition
The two-day conference also highlighted good nutrition in the 1,000 days between a woman's pregnancy and her child's second birthday.
Assoc Prof Dr Nguyễn Anh Tuấn of the HCM City University of Medicine and Pharmacy said the 1,000 days are a unique period of opportunity to ensure children's optimum health, growth and neurodevelopment.
Good nutrition during this period helps prevent non-communicable diseases such as obesity and diabetes in future, he said.
"During pregnancy, women should eat diversified food. Children are fed breast milk for at least the first four months and even two years."
Other health experts spoke about the importance of vaccines during pregnancy and children's first years.
The conference was held by Từ Dũ Hospital together with the French National College of Gynecologists and Obstetricians, FIGO and the Federation of Asia and Oceania's Perinatal Societies.
It was sponsored mainly by FrieslandCampina Việt Nam's Friso brand.
It was attended by hundreds of academics, doctors and experts from Việt Nam and other countries like France, Italy, the US and others, who shared their scientific studies and provided an up-to-date overview of obstetrics and gynecology, assisted reproductive technology, and screening, diagnosis and treatment of gynecological cancers. -VNS