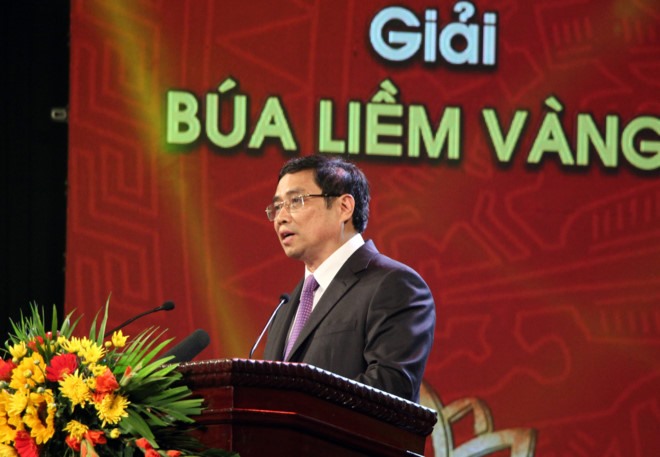 HÀ NỘI –This year's Búa Liềm Vàng (Golden Hammer & Sickle) Press Awards will be open to all Vietnamese citizens at home and abroad, instead of only journalists like in last year's competition.
The information was announced yesterday at a press conference on the competition in the capital city, on the occasion of the 127th birthday of late President Hồ Chí Minh's birthday.
The competition's second year is among the events to mark the the 87th anniversary of the Communist Party of Việt Nam (February 3, 2017).
Speaking at the press conference, Phạm Minh Chính, Poliburo member and head of the competition organising board, said the Press Awards comes after the success of the first one last year.
"Last year's event contributed to the work of Party Building and Rectification – a regular and key task of the Party. At the same time, it has further sharpened the Party's determination to fight and to win", Chính emphasised.
"The theme for this Press Awards this year will continue to focus on the work of Party building and rectification," he added.
He said that the awards aim to recognise outstanding work done in disseminating information and promoting understanding about the Party's policies and Party building work.
"There will have one special prize, worth VNĐ 100 million (US$4,400); five first prizes, 50 million ($2,200) each, 10 second prizes and 15 third prizes", Chính said.
Entries to the contest must have appeared in print or on radio or TV programs between November 1, 2016 and October 31, 2017. An awards ceremony will be held on the 88th anniversary of the Communist Party of Việt Nam, on February 3 next year.
The first Búa Liềm Vàng Press Awards was organised in 2016 and it received a total of 1,173 entries, with 47 selected for prizes. – VNS