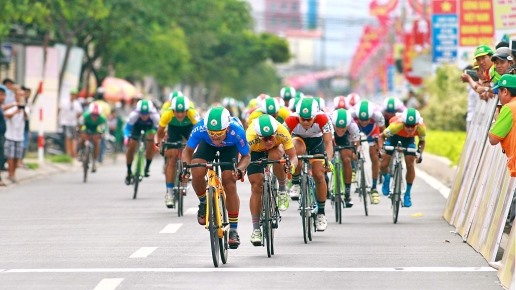 Viet Nam News
HÀ NỘI – Keo Rotha of Cambodia won the last stage of the Return to the Countryside cycling tournament yesterday.
It was a short race, so cyclists made every effort to change their rankings. Rotha beat Hà Văn Sơn of Bình Dương at the finish line to take the lead in the 56km race from Châu Giang to Thuận Giang ferry with a time of 1:23.33.
Quàng Văn Cường of Gạo Hạt Ngọc Trời-An Giang won the overall yellow jersey for the best overall time of 23.52.40 after 10 stages. Yoeun Phi Yuth of Cambodia and Nguyễn Minh Luận of Premium Cycling Vĩnh Long were the runners-up.
Yuth also won the green jersey award as the best sprinter with 126 points.
Cường's win helped An Giang top the team rankings with the best overall time of 71:39.26. Domesco Pharmacy Đồng Tháp and Premium Cycling Vĩnh Long finished second and third.
In the amateur event, Bùi Văn Sành of Hiệp Nhất-Tịnh Biên won the overall yellow jersey with a time of 23:54.38. Nguyễn Hoàng Sang of Lê Đoàn-Kiên Giang won the green jersey with 111 points. Lê Đoàn-Kiên Giang triumphed in the team race, followed by Hiệp Nhất-Tịnh Biên and Calytos Đồng Tháp. – VNS