Sapporo expands target market in Vietnam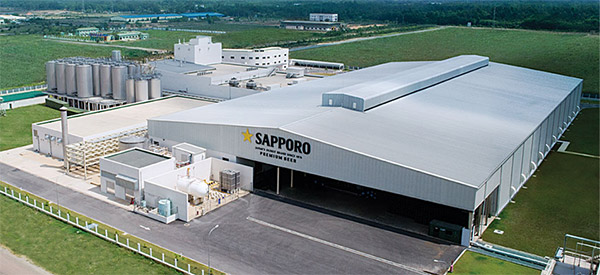 According to the Asian Nikkei Review, the new label will be launched on July 28 and is expected to be sold for between VND13,000 and 15,000 (US$58 and 67 cents) per 330 ml can at volume retailers, around 19 cent cheaper than the company's mainstay Sapporo Premium lager.
The new product will target the middle class. In Vietnam, food stands and large cafeteria-style restaurants sell mid-to-low-price brews that account for the majority the market. The company apparently aims to sell some 150,000 cases of the new product this year.
Sapporo has been exclusively targeting the high-end segment with the Sapporo Premium label.
This segment has recently seen increasing competition, with Vietnam Brewery Limited Company (VBL)'s Heineken, AB Inbev's Budweiser, Carlsberg Vietnam's recently launched Tuborg and state-run Sabeco's Saigon Special.
Competition is tough in the lower-priced segment, too. Low-cost beers in Vietnam, with brands such as Sabeco's 333 and Saigon or Habeco's Hanoi beer, and the only foreign player, VBL's Tiger, all sell at about US$55 cent per 330 ml can or lower.
Sapporo launched Sapporo Vietnam as a joint venture with state-run tobacco company Vinataba in 2010. Last year, Sapporo Holdings bought the partner's stake to turn Sapporo Vietnam into a wholly owned subsidiary. The company sells the Sapporo Premium beer brand it manufactures at its Long An factory.
The company reported growth in sales in 2015. Sapporo's plan in Vietnam, according to its 2015 annual report, is to continue expanding and establish its subsidiary as a base for strengthening exports to the region.
In the conference call with general manager of the investor relations section regarding Sapporo Holdings' results in the first quarter of this year, director Shinichi Soya said the growth of Vietnam's premium beer market is curbed "due to increased liquor taxes and other factors and competition in the market is also becoming intensified."
"We made our presence in Vietnam as a bridgehead whereby the Sapporo brand can penetrate Southeast Asia as a premium brand. Currently, we are still more in the phase of gaining recognition rather than securing profit," he said.
Data by released by Vietnam Beer-Alcohol-Beverage Association showed that 3.4 billion litres of beer was consumed in Vietnam in 2015, up 10% on-year. The growth rate of the beer sector in the last few years is lower than in the 2005-2010 period.
The association forecasted that in 2016 the freshly signed free trade agreements will result in tariffs being lifted on many products, including beer, which is going to pose a big challenge for local companies.
Garment association forecasts post-Brexit export difficulties
According to the Vietnam Textile and Apparel Association, textile and garment businesses will meet with difficulties from the fourth quarter this year under the impact of Britain's exit from the EU.
Specifically, the pound and the euro's depreciation will affect buy and sale prices of importers and the price difference between currencies will be lower than before. In addition, Brexit is said to cause some purchasing power changes in the EU and Britain.
The association advised domestic businesses who have been exporting to Britain and the EU to boost exports to traditional markets including the U.S. and South Korea and broaden their business to new markets such as Russia and Eastern Europe. This aims to limit Brexit influences to their production and trading.
Businesses should quickly build local and foreign supply chains to diversify lines of products for new markets, the association added.
Consumers cautioned to use credit cleverly
Customers must be cautious when seeking consumer loans, Viet Nam Competition Authority officials said during a meeting in Ha Noi yesterday.
The meeting was told that complaints related to consumer credit account for more than 80 percent of all complaints that the Ministry of Industry and Trade's authority records in the domestic banking and finance sector at present.
Trinh Anh Tuan, deputy head of the authority, said consumer credit is a service through which customers borrow money from certain companies for consumer purposes.
Compared with corporate credit, consumer credit is characterised as smaller loans given to a larger number of customers, with higher service costs and more risks.
Ho Tung Bach from the authority's consumer rights protection department said in Viet Nam, customers usually seek consumer credit to buy items such as motorbikes, TVs, refrigerators, computers and telephones.
Compared to banks, consumer credit service providing companies disburse money quickly with almost no tight requirements about the verification of customers' demands and financial situation.
Many financial firms currently agree to give customer unsecured loans within only 10 to 15 minutes, he said.
Thus, along with the rapid growth of consumer credit, many firms harm customers with intentional deeds, Bach said.
Typical actions are: providing insufficient and confusing terms of transaction to customers, cheating customers about interest rates, and imposing unreasonable charges for customers in case they infringe contracts.
Some firms threaten customers and their relatives, and endanger their prestige while trying to reclaim debts.
Dinh Thi Thanh Nhan from the Ha Noi University of Commerce said Viet Nam lacks separate laws to regulate consumer credit services, while lending regulations generally applied for banks and financial firms have little impact on these activities.
The Civil Code 2015 stipulates a ceiling interest rate for consumer lending at 20 per cent per year. But many companies are advertising the service with rates of between 20 per cent and 30 per cent.
Many firms even ignore the ceiling rate while making contracts and set rates of up to 60 per cent, and occasionally even over 80 per cent, according to Nhan.
"Disputes, although emerging over small-value contracts, often cause serious consequences for customers' finance, health and honour," said Trinh Anh Tuan, deputy director of the Viet Nam Competition Authority.
"They also negatively affect the consumer credit market, which needs sustained development," he told Phap Luat Viet Nam (Viet Nam Law) online newspaper.
Experts said the authorities must build a legal framework to boost transparency in consumer credit operations, and customers should improve their knowledge to use the services more "cleverly and responsibly".
Phan The Thang from the customer rights protection department suggested that customers should study consumer credit services of banks before considering similar services of financial companies.
Phap Luat Viet Nam reported that consumer loans in Viet Nam totalled US$10.4 billion, equivalent to 6.6 per cent of the country's gross domestic product, as of August 2015.
The State Bank of Viet Nam reportedly said that consumer loans grew on average by 20 per cent per year over the last seven years, and around 15.8 million people are now potential customers of consumer credit providing companies.
Cement exports on the rise
Local and export sales of cement and clinker hit 38.77 million metric tons during the first half of this year, up 12.4% against last year's same period, meeting 51.01% of this year's plan, according to latest statistics from the Ministry of Construction.
Of the figure, domestic consumption rose 14.8% to 29.92 million metric tons.
This year's consumption plan is within reach with 29.92 million metric tons out of 59-60 million metric tons set for this year consumed.
Despite a number of difficulties, cement and clinker exports increased slightly by 5% to 8.85 million metric tons in six month as a result of domestic businesses' greater efforts to boost exports.
Cement exports in June alone were estimated at 1.5 million tons, up 17.2% higher than the same month a year earlier.
Hanjin Shipping unloads shares in Vietnamese terminal
Financially troubled Hanjin Shipping Co. has sold its 21.33 per cent stake in Tan Cang Cai Mep International Terminal (TCIT) in southern Vietnam.
In a filing to the Korea Exchange on July 12, the company said that it sold its shares to affiliated company Hanjin Transportation for KRW22.9 billion ($20 million).
TCIT is a joint venture of Saigon Newport Corporation with Hanjin, Mitsui OSK Lines, and Wan Hai.
According to the company website, TCIT handled 979,221 twenty-foot equivalent units (TEUs) in 2015, up 6 per cent on-year. In 2015, the trading activity between Vietnamese enterprises and overseas partners grew by 12 per cent on-year.
TCIT continued to maintain the biggest market share in the Cai Mep-Thi Vai port complex in the southern province of Ba Ria-Vung Tau. In 2015, it accounted for around 67 per cent of the area's total throughput volume, compared to runner-up Cai Mep International Terminal (CMIT)'s 376,062 TEUs accounting for 26 per cent, and Tan Cang-Cai Mep Thi Vai Terminal (TCTT)'s 101,190 accounting for 7 per cent.
In the first three months of 2016, TCIT handled 243,000 TEUs, up 4 per cent compared to the same period last year. In 2016, TCIT has made investments to upgrade its capacity to serve more mother vessels and expects to surpass the number of 1.1 million total throughput TEUs in 2016.
There are seven terminals in the Cai Mep-Thi Vai area. Besides TCIT, CMIT and TCTT mentioned above, there are Saigon International Terminals Vietnam (SITV), SP-PSA International Port (SP-PSA), Tan Cang – Cai Mep Container Terminal JSC (TCCT), whose throughput is counted together with TCIT, and SP-SSA International Container Services Joint Venture (SSIT).
Due to weak infrastructure that causes transportation to be slower and less convenient, the terminals have trouble competing with ports in Ho Chi Minh City and Binh Duong, and many of them have been operating at a lower-than-designed capacity. Earlier this month, the Ministry of Transportation announced measures to increase the operational efficiency of ports in the area, such as dredging to facilitate larger ships and accelerating the construction of nearby roads.
As of the end of 2015, Hanjin Shipping's total debt reached KRW5.6 trillion ($4.8 million). The company plans to raise $400 million from selling assets in order to restructure its debts.
BSR picks up $1.3 mln from PV Building IPO
The PetroVietnam Building and Commercial Joint Stock Company (PV Building) conducted its first IPO on July 12 at the Hanoi Stock Exchange (HSE).
The Binh Son Refining & Petrochemical Company Limited (BSR) had previously stated that it was to cut its stake in PV Building to 51 per cent from 96.53 per cent.
There were a total of 7.9 million shares publicly offered, equal to 45.53 per cent of PV Building's charter capital, at an initial price of VND12,200 ($0.6) per share.
On July 12 a total of 19 individual investors bought 2.325 million shares at the initial price, accounting for 29 per cent of the total shares offered, according to HSE.
BSR received VND28.4 billion ($1.3 million) from the sale and now holds 67.5 per cent of PV Building.
Reducing its stake in PV Building to 51 per cent is part of BSR's preparations for its equitization, according to CEO Tran Ngoc Nguyen. "The sale is to restructure BSR while PV Building becomes a listed company," he was quoted as saying.
PV Building operates in three main sectors: producing and selling cement and agricultural packaging products, selling granulated prolypropylen (PP) and polyethylene (PE), and providing management services for real estate companies and restaurants.
It holds a large market share in the packaging sector and has been a strategic partner of BSR. Not only does it provide the Dung Quat Oil Refinery with 12,000 to 14,000 tons of PP annually it also provides 100 per cent of three-surface PE bags for the refinery's packaging products.
"PV Building's IPO will not have any negative impact on the company's operations," Mr. Nguyen said. "It will actually have a positive impact, especially on Dung Quat's expansion plans in the coming years."
According to a stock analyst at Maritime Securities Incorporation (MSI), "the PV Building divestment is expected to have a positive impact on the equitization process of BSR." After divesting from PV Building and other companies, BSR will be able to focus on its main operations, he added.
PV Building was established in March 2009 and has three shareholders: BSR with 96.53 per cent, the Cam Thanh Guest House of the Quang Ngai Province Committee Office with 3.14 per cent, and individual shareholders with 0.33 per cent.
Its total profit is forecast to increase 30 per cent annually, with after-tax profit in 2015 at VND10.8 billion ($491,000), according to the company's report. After acquiring the Dung Quat Packaging Company from BSR in 2014 its charter capital increased from VND55 billion ($2.5 million) to VND175 billion ($8 million).
Vietnam's first-ever car market opens in HCM City
Vietnam's first-ever car market, Sago Auto opened at the intersection of Nguyen Dinh Chieu and Mac Dinh Chi in Ho Chi Minh City's District 1 on July 13.
The venue covering on an area of nearly 5,000 m2 displays about 100 4-7seat vehicles. Buyers can find used cars and new cars and the car reviews and information at the fair.
Sellers can hire a stand at a cost of VND100, 000 (US$4.5) a day to showcase their cars.
The car market creates advanced conditions for direct purchases between the buyer and the owner.
Payment is implemented via a bank transfer in which buyers will send money to an escrow account. After the car ownership and documents related to the vehicle have been transferred to the buyer, the money will then be wired to the seller's bank account.
Chemical use seen affecting Vietnam farm exports
Vietnam may have a hard time boosting outbound sales of farm products in the coming time as a number of chemicals currently in use in the agricultural sector are banned or restricted by importing countries.
Industry associations warned against the overuse of chemicals in farming at a seminar held by the Ministry of Agriculture and Rural Development in HCMC last week to discuss ways to improve the competitiveness of the sector to benefit from free trade agreements (FTAs).
The associations said many countries have forbidden or limited the use of many chemicals and substances for farming but they are still allowed in Vietnam. Therefore, Vietnamese farming products could not be exported to these markets.
According to the Ministry of Agriculture and Rural Development, Vietnamese agricultural products will see more opportunities in traditional markets like the U.S., the EU and Japan owing to competitive prices and the FTAs which the country has signed. But these markets are likely to set high technical standards for some products, including coffee, rice, pepper and cashew nuts.
Some enterprises attending the seminar complained that they had already encountered such technical barriers to trade.
A local farm exporter said it could earn some tens of millions of dong from a successful export shipment but would incur billions of dong in losses if a shipment is returned.
The company called for food regulators to quickly review and revise the list of chemicals permitted for use in farming in line with international practices to help local exporters avoid losses.
Vietnam has already signed eight FTAs and is now in the process of ratifying and negotiating eight other free trade pacts.
Vinafood 2 to produce fragrant rice for export to U.S.
Vietnam Southern Food Corporation (Vinafood 2) is moving forward with a plan to develop large-scale fragrant rice fields to realize a target of exporting at least 100,000 tons to the U.S. in the coming years.
Le Minh Truong, deputy general director of Vinafood 2, said the corporation has joined hands with cooperatives in Thanh Phu District in the Mekong Delta province of Ben Tre to produce high-quality fragrant rice for export to choosy markets like the U.S.
Vinafood 2 looks to produce high-quality fragrant rice on an area of 7,000 hectares.
The Post-Import Plant Quarantine Center I under the Plant Protection Department under the Ministry of Agriculture and Rural Development said all products imported into the U.S. and the European Union (EU) must meet their requirements for residues of plant protection chemicals, or the maximum residue limits (MRL).
In addition, Vietnam must meet the traceability criteria for farm products shipped to those choosy markets. Competent authorities of the importing countries will trace the origin of a product if they find food safety problems.
Statistics of the Vietnam Food Association (VFA) showed that the ratio of Vietnam's high-quality white rice exports dropped from 36% in 2010 to nearly 28% last year.
According to VFA, Asia remains Vietnam's largest rice importer with 59% of the total shipments in 2010 and 74.5% in 2015. As the EU and the U.S. account for a small proportion of Vietnam's rice exports, the country still has room to boost exports to these markets, especially when the Trans-Pacific Partnership (TPP) agreement and the free trade agreement between Vietnam and the EU (EVFTA) come into force.
VFA noted that Vietnam has not been unable to produce a large volume of high-quality rice due to a lack of large-scale farming. Therefore, companies are encouraged to collaborate with farmers through cooperatives to sign contracts to consume products for them, provide technical support for cultivating fragrant rice and tracing product origin.
Shrimp farming households get ASC certification
International certification body Control Union has granted Aquaculture Stewardship Council (ASC) certification for 52 shrimp farming households that own nearly 89 hectares of extensive shrimp farming in Bac Lieu Province as announced on July 12 by the World Wildlife Fund (WWF).
These households are taking part in a responsible shrimp farming and consumption model organized by Thanh Cong 1 Farmer's Group and Au Vung Export Seafood Processing Joint Stock Company. This is the first time the household members of Thanh Cong 1 have got the certification.
ASC certification has been introduced in Vietnam since 2014 and applied to large-scale farms before it was issued for the shrimp farming households in the Mekong Delta province.
WWF said in a statement that some 19 enterprises have received ASC certification. They can produce only 18,600 tons of shrimp meeting ASC's standards a year, accounting for only 3% of Vietnam's total shrimp output, so the volume is not enough to meet the market demand.
Au Ngoc Vung, chairwoman of Au Vung Co, said there is a huge demand for extensive shrimp products so the company aids farmers in infrastructure and pledges to purchase the shrimp volume meeting international standards for export like ASC.
Huynh Quoc Tinh, manager of the Sustainable Aquaculture Program at WWF Vietnam, said WWF hopes to sign more contracts to affiliate with enterprises in shrimp farming and consumption like the contract with Au Vung and Thanh Cong 1.
ASC is an independent, non-profit organization with the primary goal to manage global standards for responsible aquaculture. It aims to transform the world's seafood markets towards greater responsibility, and support best practices in environmental-social responsible aquaculture. This includes increasing the availability of certified, responsibly-sourced seafood on the market, and promoting the use of the ASC logo.
Seafood products with the ASC quality mark come from producers that demonstrably respect the environment, and adhere to guidelines pertaining to food additives and social conditions.
VAMC buys VND4 trillion in bad debt in H1
Vietnam Asset Management Company (VAMC) had acquired bad debts worth only VND4 trillion (US$179.4 million) in the year to June 20 though it is tasked with buying some VND45 trillion of debts via the issuance of special bonds this year by the State Bank of Vietnam (SBV).
Nguyen Quoc Hung, chairman of VAMC, told the Daily that since its establishment, the firm has purchased VND248 trillion of original debts and issued about VND212 trillion of special bonds.
He said the lower-than-expected bad debt acquisitions in the first half resulted from a low bad debt ratio in the banking system.
The existing regulations require credit institutions with a bad debt ratio of more than 3% to sell debts to VAMC. At present, the bad debt ratio stands at 2.62% at credit institutions and most of them have handled bad debts themselves. Therefore, they sold fewer debts to VAMC.
Hung said that debt acquisitions by VAMC are made on schedule and that the firm has focused on bad debt settlements from early this year. Next year, the debt trading company will reduce debt buying.
He said VAMC is considering buying bad debts from some credit institutions that have conducted restructuring plans approved by the central bank. These restructuring plans mention bad debt sales to VAMC as a way to clean the balance sheets of the banks.
This is in accordance with the SBV's Decision 618 dated April 12, 2016 which said VAMC should acquire bad debts mortgaged by real estate or shares of credit institutions to support their restructuring.
Many of 41 credit institutions that sold debts to VAMC are expected to submit documents to extend the risk provision period for VAMC bonds to 10 years. They are businesses which have carried out restructuring plans but encountered financial problems caused by risk provisions for VAMC bonds.
Interbank interest rates for dong stay low
Interest rates for Vietnam dong loans on the interbank market have stayed low while the exchange rate between the dong and the U.S. dollar has moved in a narrow range.
Last week, the annual overnight rate dipped 0.31 percentage point to 1.46% while the one-week rate skidded 0.25 percentage point to 1.74% per annum and the two-week rate edged down 0.22 percentage point to 1.98% per year.
Interbank rates are expected to move sideways or increase slightly while liquidity is seen ample in the coming time.
The State Bank of Vietnam (SBV) last week issued 14-day treasury bills worth a combined VND25.9 trillion while VND4.9 trillion of bills fell due, leaving a net withdrawal of VND21 trillion from the market.
Open market operations (OMO) saw no transactions last week and there have not been net withdrawals or net injections for the seventh week in a row.
Last week, foreign investors bought VND1.42 trillion of Government bonds and sold VND472 billion of debt, leaving net purchases of VND947 billion.
In the year to date, foreign investors' net purchases of G-bonds have totaled VND15.19 trillion. Bond coupons for almost all tenors have inched up.
The SBV on July 12 announced the average daily interbank exchange rate between the two currencies at VND21,862 per dollar. The greenback was sold for some VND22,304 at commercial banks, down VND9 compared to previous days.
The dollar selling price has hovered in a range of VND22,299.5 and VND22,300.5 in recent times.
On the interbank market, the interest rate for overnight dollar loans stood at 0.4% per annum and the annual rates for the one-week tenor at 0.5%, the two-week tenor at 0.6%, the three-week tenor at 0.7%, the one-month tenor at 1% and the three-month tenor at 1.5%.
Dollar supply has been stable and commercial banks have held on to the greenback.
A bank told the Daily that mild volatility of the dong-dollar exchange rate in the past two weeks indicates that Britain's vote to leave the European Union has not left significant short-term impact on Vietnam's forex market.
A recovery of world financial markets helped improve investor sentiment and restrict dollar hoarding in Vietnam.
Mekong Delta needs to make clear policy incentives for investors
Mekong Delta provinces should make clear policy incentives if they want more investors to come, instead of just promoting the region as a place with high agricultural potential, heard a conference in Hau Giang Province on July 11.
Lu Van Hung, chairman of Hau Giang, told the conference on investment potential in the province that Mekong Delta provinces, including Hau Giang, have advantages in rice and seafood farming.
The Mekong Delta makes up 47% of the country's paddy growing area, 56% of total rice output and 90% of total rice export, and is a key exporter of seafood in Vietnam.
Nguyen Minh Nhut, project manager at German beer producer Bitburger, told the conference that he wants to know Hau Giang's incentives and support for enterprises.
Hung did not directly answer Nhut's query but said relevant agencies in the province will meet the company to discuss.
Speaking to the Daily on the sidelines of the conference, Nhut said it is essential that provinces make clear what they will support, such as land use and rent, and infrastructure.
Nguyen Phuong Lam, deputy director of the Vietnam Chamber of Commerce and Industry (VCCI) in Can Tho City, said the Mekong Delta has strong economic growth, a good investment environment, improved infrastructure, a big market and low labor cost.
Tran Huu Hiep of the Southwest Steering Committee said Hau Giang does not have many advantages in the agricultural sector as other Mekong Delta provinces do. Therefore, the locality should focus on the sectors where it is strong.
He said that regarding the Provincial Competitiveness Index (PCI) of Hau Giang, the province is strong in the market access criterion, so it can emphasize its dynamism and transparency as advantages.
At the conference, Hau Giang granted investment certificates to four projects, namely a waste treatment plant worth VND234 billion of Greenity JSC; a food processing plant worth VND1.13 trillion of Nam Song Hau Food Import Export Service Trading Company Limited; a footwear factory worth VND2.31 trillion of Lac Ty 2 Co Ltd; and a trade-recreational complex named Nguyen Kim Hau Giang worth VND385.6 billion of Nguyen Kim Hau Giang One Member Co Ltd.
HSBC projects 2017 inflation to grow 4.9%
HSBC Bank has projected Vietnam's inflation to pick up more convincingly in 2017 and headline inflation to reach 4.9% by the end of the year, limiting the window for further monetary easing by the State Bank of Vietnam.
According its Asian economic report released on July 11, HSBC said Vietnam's headline inflation averaged 0.6% in 2015, marking the lowest in recent years. However, headline consumer price index (CPI) growth jumped from 0.8% year-on-year in January to 2.4% year-on-year in June, driven by rising food inflation, a pickup in healthcare premiums and fading energy deflation.
While core inflation remains under control, fluctuating between 1.6% and 2% year-on-year over the past year, solid domestic demand and robust credit growth suggest that the room for further monetary easing is limited.
"We forecast headline inflation to approach the Government's 5% target by the end of the first half of 2017. In response, the State Bank of Vietnam (SBV) will likely raise the open markets operations (OMO) rate by 50 basis points to 5.5% in the third quarter of 2017," HSBC said.
The report said the lack of progress on revenue expansion, coupled with weak oil prices, means that the budget deficit is likely to remain elevated, limiting the Government's ability to boost capital expenditure.
"In 2016, we forecast the budget deficit to widen again to 6.6% of GDP, causing the public debt-to-gross domestic product (GDP) ratio to approach the National Assembly's limit of 65%. Regaining fiscal wiggle room requires efforts to broaden the revenue base and reduce current expenditure, but these reforms will take time," the bank added.
Besides, Vietnam's exports continue to be buffeted by headwinds from weaker global demand but domestic demand will likely drive an acceleration of growth in the second half of 2016. Vietnam's new leadership refrained from lowering the 6.7% 2016 GDP target in the face of the soft first-quarter GDP numbers.
"The GDP numbers in the second half confirm our view that the target will be very difficult to achieve. However, authorities are likely to take steps to boost demand and spur investment, for example, by delaying the tightening of credit for real estate lending. We keep our 2016 and 2017 GDP forecasts unchanged at 6.3% and 6.6%, respectively," the report said.
Fortunately, Vietnam continues to receive robust foreign direct investment (FDI) inflows, which should help keep the overall balance of payment in surplus and facilitate a recovery in foreign exchange reserves.
Disbursed FDI had hit US$7.3 billion as of June, a 15.1% year-on-year increase. With new factories commencing operations this year, HSBC expected FDI to drive further gains in Vietnam's global export market share, allowing shipments to continue growing at a high-single digit pace even as global demand slows.
Besides, the bank said foreign reserves level remains light to protect against unanticipated event risk.
According to the International Monetary Fund (IMF), Vietnam's foreign exchange reserves had fallen to US$27.9 billion, or two months of goods and services imports as of end-2015. Based on available trade and portfolio data as well as onshore media reports, HSBC predicted reserves might have recovered to around US$33.6 billion (2.5 months of imports) in the first quarter of 2016.
However, these are still low levels especially in the context of Renminbi volatility risks, which could put pressure on the Vietnam dong.
Export growth target seems hard to attain
There is growing concern over Vietnam's possibility of achieving this year's export growth target as the rate in the first six months was only 5.9%.
Statistics of the Ministry of Planning and Investment indicated that first-half exports totaled US$82.24 billion, up 5.9% year-on-year, well below 9.2% in the same period last year and the 10% full-year target.
Minister of Planning and Investment Nguyen Chi Dung was quoted by Lao Dong newspaper as reporting to the Government earlier that the lower-than-expected export growth was attributable to shrinking outbound sales of key products. For example, shipments of industrial and processed products rose by only 8.2% year-on-year, well below 18% in the first half of 2015.
Fuel oil and mineral exports plunged by 38.7% in January-June due mainly to the big drop in crude oil prices.
Export turnover from agro-forestry-fishery products climbed 6% year-on-year but was not strong enough to drive up the nation's overall export growth.
Nguyen Noi, deputy director of the Foreign Investment Agency (FIA) under the ministry, said this year's export growth could not rely only on the foreign direct investment (FDI) sector as its exports, excluding crude oil, grew only 9.1% in the first half.
Noi said the FDI sector was responsible for about 70% of the country's total export revenue but its exports depended heavily on major projects in the fields of mobile phones, electronics and parts. In previous years, the sector obtained a strong export pickup when huge projects such as the electronics complexes of Samsung were put into operation but there have been no projects of such magnitude this year.
The ministry said the UK's June 23 Brexit vote to leave the European Union (EU) and stronger devaluations of sterling and the euro against the U.S. than that of the Vietnam dong are projected to put a dampener on Vietnam's shipments to the UK and the EU.
Although Brexit may not immediately affect Vietnam's exports in the second half, Vietnam will find it difficult to attain export growth of 10% this year and in the coming years if there are no drastic measures to expand markets.
Vietnam lowers electricity imports from China
Vietnam Electricity Group (EVN) plans to buy 950 million kWh of electricity from China this year, declining by 733 million kWh year-on-year, according to the group's report on its production and business operations in the first six months.
The electricity purchase cut is part of Vietnam's plan to reduce power imports from foreign markets.
Leaders of EVN said purchasing electricity from foreign countries is to ensure sufficient electricity supply for the national grid as it often takes a long time to develop a power station project. However, as more new power plants have come on stream, Vietnam will import less electricity from the northern neighbor.
EVN reported that January-June electricity output inched up 12.51% to 88.51 billion kWh, including 16.13 billion kWh in June. Of the total, the group generated and purchased 84.75 billion kWh, rising by 10.75% over the same period last year.
EVN reduced the volume of electricity imported from China to 1.38% of the total it generated and bought in the six-month period. It focused more on electricity from hydropower, thermal-power and oil-fueled power plants in the country.
Particularly, electricity supplied by thermal-power plants accounted for nearly 40%, followed by hydropower plants with 28.3%, and oil-fueled power plants with 1.24%. Notably, the operation of Vinh Tan 2 and Duyen Hai 1 thermal-power plants helps secure stable electricity supply for the south.
VIB offers express lending service for SMEs
Vietnam International Bank (VIB) has launched a special program in which small and medium enterprises (SMEs) can take out loans within 48 hours.
Designed to help enterprises seize business opportunities by gaining speedy access to loans, the program enables SMEs in need of short-term capital to get loans up to 80% of mortgaged assets at preferential interest rates.
VIB also integrates its products and services like payment account, asset insurance, Internet banking and SMS banking into different lending packages for corporate clients. They can use such packages to benefit from preferential rates and consultations besides other promotions.
According to Vuong Thi Huyen, deputy general director and head of wholesale banking at VIB, SMEs are among the bank's key clients. Therefore, the bank expects to meet demand of SMEs by offering a swift and flexible banking product to help them develop business activities.
VIB is also running another credit program for clients planning to buy autos at a rate as low as 7.15% per year in the first six months. The program lasts until the end of September.
Retail giant Central promotes Vietnam goods in Thailand
Thailand's leading retailer Central Group on Sunday launched a week-long event to promote Vietnamese goods and cuisine in downtown Bangkok in association with Vietnam's Ministry of Industry and Trade.
The promotional fair, held at major shopping mall Central World, will showcase a wide range of products from top Vietnamese companies such as fine porcelain maker Minh Long, brewery Saigon Beer, Dien Quang Electrical, textile company Hoa Tho, tea company Tam Lan, Highlands Coffee, and food producers Bich Chi, Hoan Chau and Tan Hue Vien.
Furniture company Binh Phu, which has recently secured a US$1.2-million deal to furnish Central Group's forthcoming six-star hotel in Bangkok, will also participate. Around 150,000 visitors are expected a day.
Deputy Minister of Industry and Trade Ho Thi Kim Thoa said the fair has been brought to many countries, but this is the first time it has been hosted by Thailand.
"This is a great opportunity to promote the country's culture and cuisine as well as the ability of businesses from Vietnam, a major exporting nation in the region," she said at the opening ceremony.
Sudhitham Chirathivat of Central Group said in a statement that the fair is a great platform to introduce Vietnamese culture and products to Thai people.
It also indicates the company's commitment to help Vietnamese producers make inroads into new markets via Central's network of stores and companies around the world, he said.
Central Group now operates the CGV Sourcing and Export Office to support and promote Vietnamese goods abroad. It represents 70 Vietnamese suppliers in agriculture, industry and consumer goods, assisting them in shipping products to over 20 countries.
The group, which started doing business in Vietnam in 2011, currently employs over 15,000 Vietnamese people. Its presence spans numerous industries including electrical, sporting, fashion, department stores, hospitality, e-commerce and supermarkets.
Central Group now operates the CGV Sourcing and Export Office to support and promote Vietnamese goods abroad. It represents 70 Vietnamese suppliers in agriculture, industry and consumer goods, assisting them to export to over 20 countries.
Number of businesses re-operating up 75%
As many as 14,902 businesses resumed operation in the first half, a year-on-year surge of 75.2%, according to the General Statistics Office.
A total of 54,500 newly-established enterprises were recorded nationwide, registering a combined capital of VND427,800 billion, up 20% and up 51.5% in terms of the number and capital compared to the same period last year.
Up to 16,125 enterprises increased their capital by VND774,700 billion over the recent six months, raising the total registered and additional capital to VND1.202 trillion in the first half.
These achievements are thanks to active impacts of the Law on Enterprises and the Law on Investment and effective management of the Government, which have enhanced start-ups and created stronger belief for investors.
According to the recent survey on business trend of the manufacturing and processing sector in the second quarter of 2016, 41.8% of the businesses evaluated positive signs in operation and 39.3% supposed that production is sustainable. Only 18.9% expressed difficulties in operation and production.
Most of the enterprises forecasted that production will be positive in the second half of the year, including 55.4% expecting the increase in production, 9.3% forecasting the decrease in production and 35.3% supposing sustainable production.
Trade ministry asked to achieve 10 percent export growth
Prime Minister Nguyen Xuan Phuc asked the Ministry of Industry and Trade to achieve a 10 percent export growth this year, during a conference reviewing the sector's six-month activities on July 12.
He hailed the ministry for achievements in export and administrative reform, amid the global economic downturn, as well as drought and saline intrusion in the Mekong Delta.
According to the PM, some of the sector's enterprises have played vanguard roles in key areas such as energy and food.
Pointing out shortcomings that need to be fixed, he admitted that the industrial production index is growing slowly, while regulations have yet to meet demand for global economic integration.
The PM suggested the sector improving the performance of the National Competition Council, prevent monopoly and price dumping, fine-tuning strategies for spearhead industries, and providing all possible support for the private economy.
In order to renovate State management and engage the private sector in the country's indutrialisation and modernisation, State-owned enterprises should be made smaller while private entreprises grow continuously on the back of sound policies, he said.
Mentioning lessons learn from the Formosa incident, the PM asked leaders of ministries, agencies and localities to be responsible to the Party, State, the PM and the people if a similar environmental incident occurs again, saying that development goals mustn't be traded for people's lives.
Giving his opinions on specific measures, the leader requested focusing on industry, trade, services, and increasing oil and gas production.
Manufacturing is the most important solution to boosting growth, he said, adding that each sector must increase production and improve competitiveness.
In the campaign "Vietnamese prioritise Vietnamese goods", the retail system should be expanded with counterfeits being eliminated.
At the conference, he demanded the ministry restructure itself after considering that its apparatus is too cumbersome with 30 departments and department-level units, 10 universities, 22 colleges, and 11 corporations and groups.
On the occasion, he reminded the ministry staff to raise their sense of responsibility to fight corruption and wastefulness, and deal with violations, toward successfully fulfilling assigned tasks.
In the first six months of this year, the country's gross domestic product grew 5.52 percent, lower than the same period last year.
The index of industrial production increased by 10.1 percent while total goods and services consumption hit 9.5 percent growth.
Bac Ninh: FDI hits 337 million USD in H1
The northern province of Bac Ninh has granted investment certificates to 67 new foreign direct investment (FDI) projects with a combined capital of 337 million USD since the beginning of 2016.
According to figures from the province's Department of Planning and Investment, the Republic of Korea is the top investor with 50 projects worth 246 million USD, followed by Japan with four projects worth a total of 35 million USD.
The province also granted business certificates to 567 local enterprises with a total capital of 3,487 billion VND (153 million USD), bringing the total number of businesses registered under the Enterprise Law to 7,798 with a combined capital of 107,580 billion VND (4.7 billion USD).
In terms of FDI enterprises, until now Bac Ninh had 864 registered projects with a combined capital of 11.9 billion USD, of which 707 projects are operational, providing jobs to more than 180,000 labourers.
Bac Lieu plans to restructure fisheries sector
The People's Committee of Bac Lieu province has approved a plan to restructure the local fisheries sector, aiming to increase the average annual per capita income in the sector to 92.3 million VND (4,100 USD) by 2020, up 1.4 times against last year.
Black-tiger shrimp, white-legged shrimp and sea crabs are the province's key aquatic species.
The Mekong Delta province plans to breed blue-legged spawn, dragon fish, marble goby, clams, oysters and other aquatic species.
Models of farming aquatic species meeting global and Vietnamese Good Agricultural Practices (GAP) standards will be expanded.
Under the plan, the Mekong Delta province will have an annual aquaculture output of 370,000 tonnes, including 147,000 tonnes of shrimp by 2020.
The area devoted to breeding brackish-water shrimp will increase from 127,450 ha last year to more than 131,750 by 2020.
The plan also targets an increase in the number of fishing boats from 1,264 last year to 1,450, including 650 off-shore ones, by 2020.
Bac Lieu will gradually reduce catching fish near shore and develop off-shore fishing, targeting a catch of 120,000 tonnes of fish and other aquatic species by 2020.
The province plans to develop fishing logistics services on sea and at fishing ports, and use advanced techniques in fishing and storage in order to reduce post-harvest losses in fishing from the current 20 per cent to 10 per cent by 2020.
Storm shelters, including Cai Cung, Nha Mat and Ganh Hao, will be built for fishing boats.
The plan will cost more than 6.4 trillion VND (290 million USD) from the Government budget, provincial budget and other sources.
Companies resuming operations shoot up in number
The number of businesses resuming operations in the first half of 2016 saw a record high in many years, as it jumped 75.2 percent from a year earlier to 14,902, according to the General Statistics Office.
More than 54,500 companies were set up during the period with a combined registered capital of 427.8 trillion VND (19.2 billion USD), representing a year-on-year rise of 20 percent in the number of companies and 51.5 percent in capital.
Meanwhile, over 16,120 firms increased their capital by 774.7 trillion VND (34.7 billion USD, data shows.
Some officials of the Ministry of Planning and Investment (MoPI) said the surges in the business numbers and registered capital prove the effectiveness of the enterprise and investment laws and the Government's measures, which have fostered the start-up spirit and businesses' confidence.
However, 5,507 firms shut down during the six-month period through June, up 17 percent from a year before. About 5,130 of them had registered capital of less than 10 billion VND (448,500 USD) apiece, accounting for 93.1 percent of the total closures.
More than 31,100 enterprises suspended operations due to difficulties, rising by 15 percent against the same period last year, the General Statistics Office reported.
The MoPI is fine-tuning the draft law on support for small- and medium-sized enterprises, which is expected to create a legal framework for supporting these companies more strongly.
Vu Tien Loc, Chairman of the Vietnam Chamber of Commerce and Industry, said the law will be a momentum for achieving the Government's target of having at least 1 million businesses in Vietnam by 2020.
VEF/VNA/VNS/VOV/SGT/SGGP/Dantri/VET/VIR