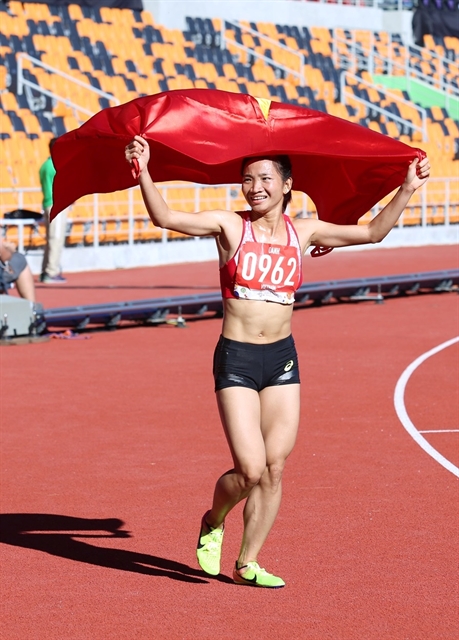 HÀ NỘI Vietnamese runner Nguyễn Thị Oanh took two gold medals on the penultimate day of the SEA Games in the Philippines yesterday.
She opened the 10th day of the event with a gold in the women's 5,000m with a time of 16:45.98. Oanh's compatriot Phạm Thị Huệ took silver medal with a time of 16:52.35. While Joida Gadot Gagnao of the hosts Philippines won bronze medal with a time of 17.52.17.
The northern province of Bắc Giang-native also triumphed in the women's 3,000m steeplechase after clocking a time of 10:00.02. She also set a new SEA Games record.
Oanh won a hat-trick of gold medal at this year's Games. Earlier, she won gold in the women's 1,500m.
Standing just 1.53m tall and having survived kidney problems in the past, Oanh also brought home a bronze medal from the Asian Games last year and two golds from the SEA Games two years ago.
At the National Sports Games held in the capital Hà Nội last December, Oanh brought her team, Bắc Giang, three gold medals and broke three National Sports Games' records.
In the women's 3,000m hurdles, Đỗ Quốc Luật took a gold medal with a time of 9:04.50. His compatriot Nguyễn Trung Cường and Purwanto Atjong Tio of Indonesia were the runners-up.
Việt Nam continued to shine in athletics.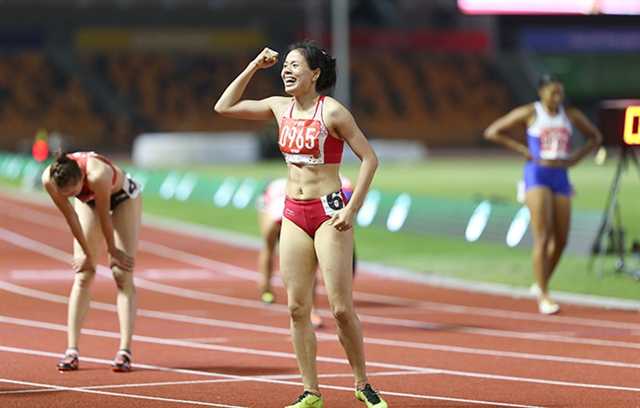 In the women's 400m hurdle, Nguyễn Thị Huyền defeated her teammate, Asian champion Quách Thị Lan, to earn her second gold in this tournament with a time of 56.90sec.
Lan finished second with a time of 57.39sec, while Brown Robyn Lauren of the hosts came to third with a time of 59.08sec.
Huyền, a mother of one, also triumphed in the women's 400m on Sunday.
Returning to the track only six months after giving birth, the Asian 400m hurdles champion in 2017 immediately confirmed her strength winning at the HCM City International Track and Field Việt Nam Open in July, where she triumphed in the 400m hurdles, and 4x200m and 4x400m relays.
Huyền recorded a treble at the last Games in Malaysia, winning the women's 400m, 400m hurdles and 4x400m relay.
Huyền said the two gold medals at the Games this year is the most meaningful in her life. It is the result of her sacrifice and effort after giving birth and returning to the competition.
Meanwhile, runner Bùi Văn Sự bagged another silver medal for Việt Nam in the men's 110m hurdle race with a time of 15.08sec.
Yesterday, Vietnamese athletes also triumphed in the women's 4x400m relay.
Vietnamese wrestlers dominated the regional biggest sports event  with seven gold medals thanks to Nguyễn Văn Công in the men's 57kg; Cấn Tất Dự.
In the men's 70kg, Nguyễn Thị Mỹ Hạnh in the women's 62kg; Kiều Thị Ly in the women's 55 kg; Nguyễn Hữu Định in the men's 61kg; Nguyễn Xuân Định in the men's 65kg and Hà Văn Hiếu in the men's 125kg.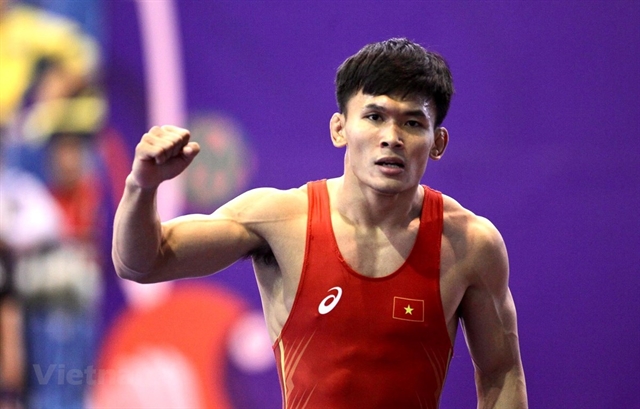 Swimmer Trần Tấn Triệu also wrote his name in the gold medal haul after winning the men's 10km. Nguyễn Huy Hoàng took silver medal.
Earlier, Hoàng took gold medals in the men's 400 freestyle and 1,500m freestyle.
In other news, Việt Nam men's 5×5 team won a bronze medal after many years of waiting. They beat Indonesia 86-71 in the third-placed playoff match. VNS